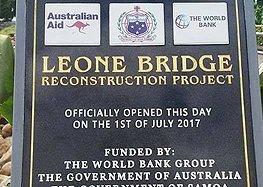 The construction of the Leone Bridge is a proposed ERAP project which was funded by the World Bank and Department of Foreign Affairs and Trade (DFAT). The flooding caused by Cyclone Evan in 2012 destroyed the old bridge and led to issuance of road closure. The new construction also incorporated enhancements to the new bridge to help provide a sustainable, safe and secure crossing for the public. The Leone bridge was opened again in July 2017.
The China Railway First Group (C.R.F.G) was awarded the $10,915,707.48 project. China Railway First Group (Samoa) Company Limited was contracted by the Government of Samoa through the Land Transport Authority to implement the project co-funded by the World Bank, Government of Australia and Government of Samoa.
Leone Bridge is a one span designed bridge consisting of eight beams; six inner beams and two outer beams. Each beam length is 26.8 meters, 1 meter wide and weighs 48tons. All these beams were pre-casted by Stahlton Engineered Concrete company in New Zealand before they were shipped to Samoa.
The re-opening of the bridge has improved traffic flow and provide easier and quicker access for vehicles.